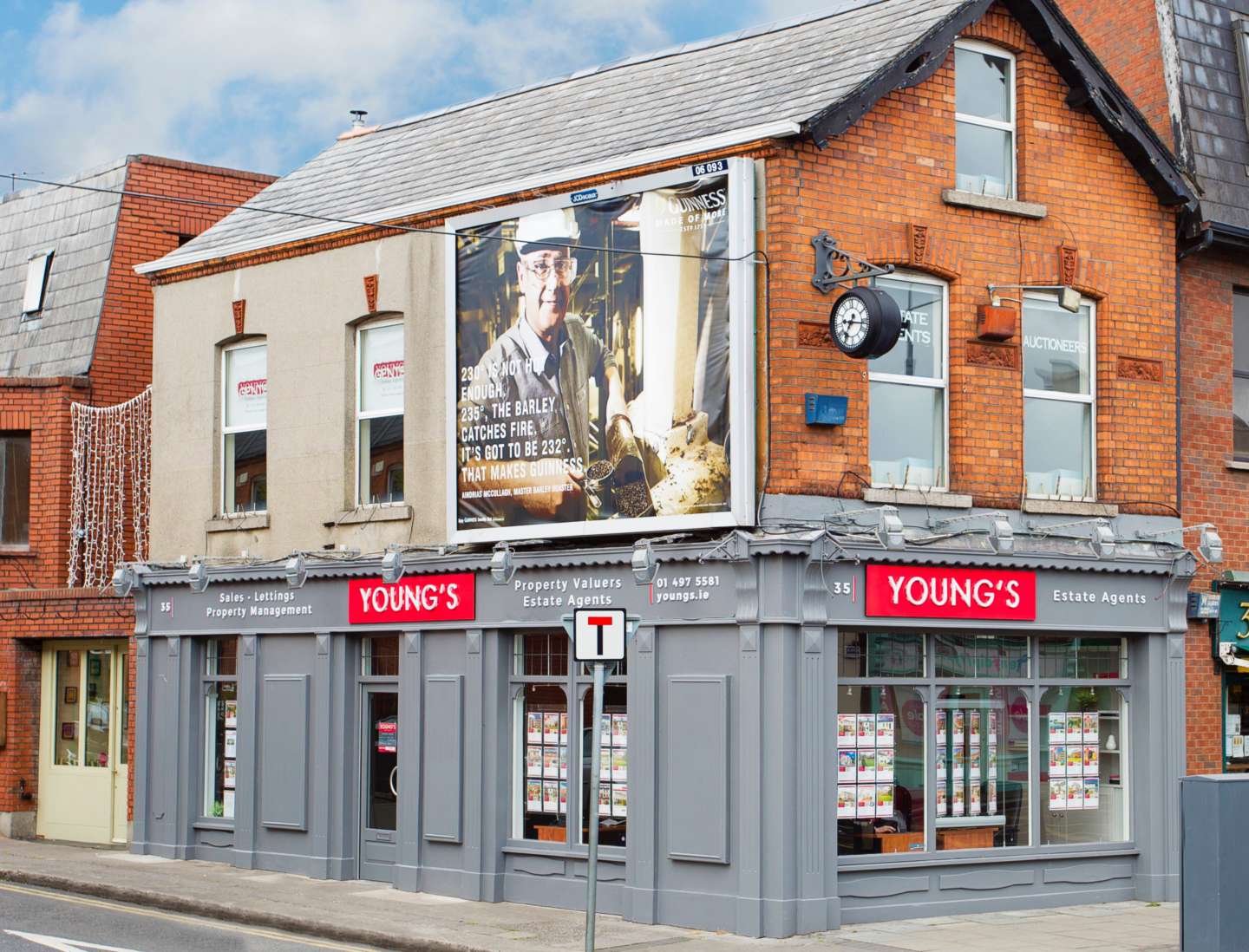 Thinking of Selling Your Property?
Book a free property valuation with Young´s Estate Agents today:
Young's Estate Agents, based in Ranelagh, Dublin 6, is regarded as one of the leading independent South Dublin estate agents.
We take pride in our superb success rate, our expert local knowledge and our ability to provide you with a dedicated, tailored service. When you are selling your property, we know that you want to realise the highest return in the shortest possible time, and with the least amount of inconvenience to you. We use all of our expertise, experience and proven methods to achieve your goal, whilst providing excellent customer service.
Youngs Go Above And Beyond
I have bought AND sold 3 properties through Youngs estate agent plus used them over the years for lettings. I never hesitate to recommend Jane and her team to any of my friends or colleagues. Jane calls things as they are so you can know exactly what your property will realistically get on sale - she's never been far wrong either. After over 10 years of dealing with Young's it would not occur to me to go to another estate agent. I haven't had a single bad experience dealing with them . They go above and beyond whether buying or selling and I trust their judgement and advice implicitly.
— Joy Fahy, Dublin 6
Absolute Pleasure To Deal
It was an absolute pleasure to deal with Young's. Michael was so helpful and the process went very smoothly. I can highly recommend.
— Alan Quigley, Dublin 6
Amazing & Highly Efficient
I have dealt with Jane at Youngs twice over the years. Once you hand over to her, she deals with everything – amazing and highly efficient. She always goes the extra mile to get the best price for your property. Would highly recommend this agency, particularly Jane.
— Ruth Gannon Hughes, Dublin
Brilliant
Michael has been brilliant, he has worked so hard to help us sell and we really appreciate how much time and effort he has put into it. Communication has been excellent every step of the way and highly recommend him if you are looking to sell!
— Astra O'Leary, Dublin
Impeccable Service
I would highly recommend Young's Estate Agents. They have provided an impeccable service from start to finish. Michael was professional, friendly, and obliging at all times, he went above and beyond to accommodate our needs during the process of selling. Our family is so grateful for all Young's Estate Agent's, especially Michael, have done for us.
— Glenda O'Leary, Dublin
Professional & Personable
Professional, personable and a pleasure to deal with. Young's sold our previous home and I could not recommend them more.
— Pat Stephenson, Dublin 6
Professionalism & Guidance
We engaged Michael McDonagh from Youngs Estate Agents to market our property in Ranelagh. From the outset I was impressed with the professionalism, the advice, guidance and support we received. I have no problem recommending Youngs, and Michael in particular, if you are considering putting your property on the market and I will certainly be using them again when and if I am selling property in Dublin.
— Philip Troy, Dublin 6
Reasons To Choose Young's To Sell Your Property
Tailored Service
Our highly experienced negotiators take an extremely proactive approach to selling your property. Every vendor benefits from a dedicated senior negotiator who will keep in constant contact with you throughout the process.
Expert Negotiation
Each transaction brings with it a different set of circumstances and challenges that require skill, knowledge, tenacity and professionalism. We are highly experienced in negotiation and we pride ourselves in achieving the best results every time.
Buyer Matching
Using our state-of-the-art software and our ever-growing database of prospective purchasers, we are able to match new buyers to your property in an instant.
Pre-sale Advice
We offer expert advice on all aspects of the sale as we prepare to market your property. Our team is well-informed on the ever-evolving needs of purchasers, the latest legislation and market dynamics. Our goal is to ensure that you achieve the best possible price in a timeframe that suits your requirements.
Commitment
Our clients appreciate that we understand the importance of keeping them informed throughout the entire process of selling their homes and that we are there to support them. We pride ourselves on proactive communication. We have an open and honest approach to everything we do. We have built our business on the core value of Integrity, doing the right thing always, committed to your success.
Closing Smoothly
One of the most critical stages of your sale is the closing period, it takes expertise and tenacity to nurture a sale successfully through to completion. With decades of experience, our team will skilfully collaborate with both parties' solicitors, avoiding any potential obstacles to completion, and ensuring the process concludes as quickly and smoothly as possible.
Our Team
Take a Look at Some of Our Most Recent Sales Below:
Request a Free Sales Valuation
Our office
Young's Estate Agents
Elmwood House,
35 Ranelagh,
Dublin 6
Directions
General enquiries
Have a property to sell?
Get in touch below.
Pagespeed Optimization by Lighthouse.